CAPA Releases Latest Public Sector Focused Publication | PAOs: Extending Activities into the Public Sector
Published date: June 14, 2021
---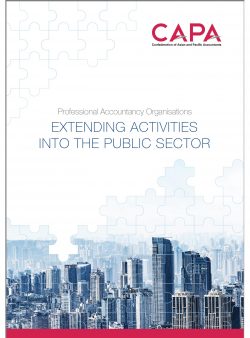 CAPA strongly advocates for good public financial management (PFM). Supporting this stand over many years, CAPA has undertaken initiatives and activities that will further this goal. One of the cornerstones of its public sector focused initiatives is a series of key thought leadership publications to assist professional accountancy organisations (PAOs) consider and support their roles and responsibilities towards this very important sector.
Continuing this legacy, the latest publication PAOs: Extending Activities into the Public Sector, responds to the key messages of a survey* CAPA undertook of its members and some other PAOs in the Asia Pacific region. The key messages from the survey included that most PAOs focus on the private sector, and engagement with the public sector is limited; PAOs in developing and emerging economies are uncertain how to engage with the public sector; and global and regional accountancy bodies can help PAOs engage with government.
This latest addition to CAPA's public sector focused library, which is oversighted by CAPA's Public Sector Financial Management Committee (PSFMC), aims to:
provide the reasons why a PAO may wish to focus more on the public sector, highlighting the benefits and opportunities; and
identify and describe the types of public sector related activities a PAO can pursue.
Brian Blood, CAPA Chief Executive added, "Where PAOs already have a focus on the public sector, this latest release aims to provide ideas for extending or strengthening the forms of engagement and activities."
"A strong PFM system is an essential part of the institutional framework for an effective state and PAOs are an important component of this framework. The development of the PAO to support stronger PFM serves the public interest. This latest CAPA publication therefore concentrates on supporting the development of PAOs in the public sector." said Alan Edwards, PSFMC Chair.
We recommend the publication to you. Download a copy here.
A copy of all other CAPA PFM publications can be accessed from the following section: Public Financial Management > PFM Publications
*The findings of the survey were published in 2019 in the CAPA publication 'PAOs: Engaging with the Public Sector'