PAOs: Engaging with the Public Sector
Published date: May 31, 2019
---
May 2019
The CAPA Public Sector Financial Management Committee (PSFMC) developed this publication that aims to identify the current extent and nature of the accountancy profession's engagement with the public sector, and to encourage professional accountancy organisations (PAOs) to consider increased level of engagement. To help understand the situation and develop propositions, CAPA surveyed its members and some other PAOs in the region covering a total of 30 PAOs across 24 jurisdictions.
Findings from the survey indicated that significant specific improvements in PFM are possible, improvements that the accountancy profession could greatly assist with. Yet in many countries around the world, the profession's engagement with the public sector in this regard is often limited and occasionally non-existent. The publication contains a number of key messages, as revealed by analysis of the survey responses, as well as advice to PAOs and other stakeholders on how they might respond to those messages.
Read this flyer for a brief introduction about the publication and key messages from the survey.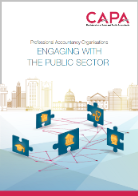 View: PAOs: Engaging with the Public Sector | PDF | 20 pages
Note: This publication is provided for reference at no charge. However, written permission from CAPA is required to reproduce, store, transmit, or make other similar uses of this document, both in printed or digital formats and by electronic links. Contact the CAPA Secretariat for permission.