CAPA launches Canadian case study to support PAOs' engagement with the public sector
Published date: September 6, 2021
---
Promoting the importance, value and benefits of high-quality public financial management (PFM) remains a mainstay, and is one of the central focus areas, for CAPA.
CAPA is therefore pleased to announce the launch of a third case study, part of a series to support an earlier CAPA publication ''Professional Accountancy Organisations – Engaging with the Public Sector' . This main publication aimed to identify the current extent and nature of the accountancy profession's engagement with the public sector, and to encourage PAOs to consider increasing their level of engagement.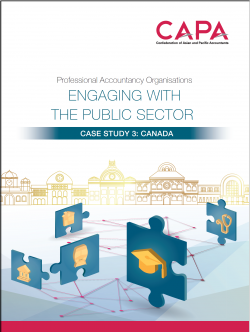 This latest case study 'Case Study 3: Canada' is a collective effort between CAPA and the Chartered Professional Accountants of Canada (CPA Canada) and illustrates how the national PAO developed two (2) public sector certification programs: the Public Sector Certificate and the Senior Executive Advanced Finance and Accounting Program. These programs contribute towards 'creating a supply' of well trained, highly competent finance personnel to enable various levels of governments in Canada to deliver on their public sector financial management agenda.
CAPA Chief Executive, Brian Blood, commented, "CAPA's case study series provides practical examples of engagements between the accountancy profession and the public sector, which lead to a stronger overall PFM landscape. We believe that by curating and collaborating with PAOs such as CPA Canada to share their success stories, other PAOs can be encouraged to consider their own efforts in this regard."
"CPA Canada is delighted to collaborate with CAPA on this case study. We strongly believe in the power of partnerships that serve to further strengthen the global accountancy profession.  We hope by sharing our experience, lessons learned and know-how, other PAOs can benefit and get a leg-up." said Gord Beal, CPA Canada Vice-President, Research, Guidance and Support.
The case study illustrates how the public sector certification programs were developed and considers what is envisaged for their future. CPA Canada also shares their success factors for engaging with the public sector and for the delivery of the programs, the benefits derived from the engagements, and some top tips to assist other PAOs seeking to effectively engage with the public sector.
An electronic copy of 'Case Study 3: Canada' can be downloaded here.
| | |
| --- | --- |
| | The main publication 'Professional Accountancy Organisations – Engaging with the Public Sector' and earlier case studies, 'Case Study 1: India' and 'Case Study 2: Malaysia', can be accessed here. |