CAPA 2019 Annual Review now available – New Strategy, New Design
Published date: February 24, 2020
---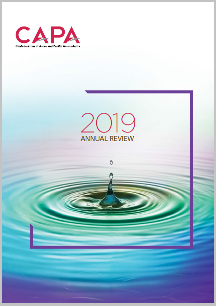 The 2019 CAPA annual review is now available on the CAPA website.
The annual review documents CAPA's first year of transition into our Strategic Plan – Towards 2025, and looks at how we utilised our unique but limited resources to make a difference in the profession.
According to CAPA President, Manoj Fadnis, "A number of changes have occurred for us in 2019 with the introduction of a new strategic plan, and we also introduced some new initiatives."
"I am very pleased to see the positive results from these initiatives, and I feel confident to pass over the office of CAPA to the next President as I end my two-year term," he added.
CAPA Chief Executive, Brian Blood, reported that "one of our aims was to increase the number and range of activities in 2019 given we had additional human resources, and I am delighted that we were able to achieve what we set out to do."
In addition, "CAPA is well-placed to 'hit the ground running' on many of the initiatives in 2020 – this indeed was a highlight for me as 2019 marked my 10th anniversary in the role of Chief Executive," he enthused.
The overall effect of the transition was also reflected through a revamp of the look and design of the document. Download a digital copy of the 2019 annual review here.
A copy of all other annual reviews can be accessed from this section: About Us > Annual Review.