Registration is open for the 20th CAPA Conference
Published date: August 23, 2021
---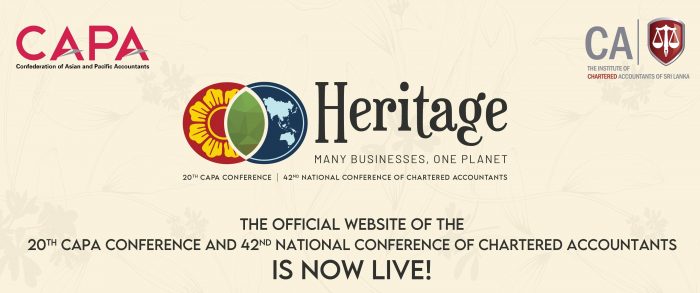 The 20th CAPA Conference was officially launched alongside the 42nd National Conference of Chartered Accountants of Sri Lanka at a press conference hosted by the Institute of Chartered Accountants of Sri Lanka (CA Sri Lanka) on 20 August 2021.
The launch was officiated by CAPA President, Dr. Chen Yugui and CA Sri Lanka President, Mr. Manil Jayasinghe. The press conference, held in hybrid format, was attended by the media in Sri Lanka and featured the reveal of both the theme and the dedicated event website.
Dr. Chen Yugui, CAPA President, mentioned in his speech, "This will be the first time that the CAPA Conference will be held as a blended event – both physically and virtually – marking yet another landmark in this legacy event."
"We hope CAPA representatives will attend and support the event and where appropriate, CAPA member organisations are most welcome to encourage your members to participate," commented Brian Blood, CAPA Chief Executive. "The registration fee covers the whole two days and has been kept relatively low reflecting the virtual nature of the event. This is therefore an excellent opportunity for some CAPA member PAOs to provide first-rate CPD to their members."
The conference will feature high-quality, international speakers, addressing matters extremely pertinent to the accountancy profession at this time.
To keep abreast of the latest details of the event, and for the latest program, please visit the dedicated event website. 

Registration is now open >> please click on the red 'Register' button on the top navigation bar of the event website. To register as an international participants, select 'International participant' on the dropdown menu. Following that, key in your 'Passport or Membership number' – this should be in a format of 5 to 20 characters long (minimum 5 characters & maximum 20 characters), containing any letters from a to z (in capital or small caps) and any numbers from 0 through 9.