PAOs Engaging with the Public Sector – Case Study 1: India
Published date: October 31, 2019
---
The CAPA Public Sector Financial Management Committee (PSFMC) developed a publication titled 'Professional Accountancy Organisations – Engaging with the Public Sector'  with an aim to identify the current extent and nature of the accountancy profession's engagement with the public sector, and to encourage professional accountancy organisations (PAOs) to consider increasing their level of engagement. A series of case studies was later proposed as a follow-up to the publication to provide examples of how PAOs around the world have successfully 'engaged with the public sector' and the benefits derived from the engagement.
This case study from India demonstrates how the PAOs engaged with the Indian government to improve the quality of accountancy information within the Indian Railways and derive the resultant benefits.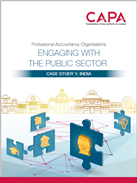 View: PAOs Engaging with the Public Sector – Case Study 1: India | PDF | 8 pages
Note: This publication is provided for reference at no charge. However, written permission from CAPA is required to reproduce, store, transmit, or make similar uses of this document, both in printed or digital formats and by electronic links. Contact the CAPA Secretariat for permission.