Maturity Model Guidance Series: Quality Assurance
Published date: August 4, 2017
---
The Maturity Model™ Guidance Series is produced to support the Maturity Model for the Development of Professional Accountancy Organisations™ publication.
The Maturity Model™ is a support tool that allows professional accountancy organisations (PAOs) to take a systematic approach to their organisational development, helping them make decisions and carry out their commitment to excellence, easily tracking their progress along the way. The Maturity Model™ comprises sixteen key success areas (KSAs) across four broad characteristics, which are presented around outside of the model as sustainability, relevance, professionalism and member value.
Quality Assurance (QA) is included as a KSA under "professionalism". A strong QA for audit system is a highly relevant attribute for a strong PAO in order to support and maintain a strong accountancy profession.
QA for audit contributes to the foundations for sustainable development. Effective QA for audit improves auditing and financial reporting by ensuring that auditors perform to the highest professional and ethical standards and that national audit standards are well harmonised with global standards. This drives improvements in financial reporting, leading to better governance and business confidence.
Quality Assurance for Audit – Good Practice Guide
This 'Quality Assurance (QA) for Audit Good Practice Guide (GPG)' was prepared by ICAEW as part of the Project TA-8740: Strengthening Financial Management in Asia and the Pacific (48191-001), a regional technical assistance program funded by the Asian Development Bank (ADB).
This GPG provides the "why", "what" and "how" of QA for audit systems and is intended for all those responsible for the regulation of accounting and auditing, including policymakers, regulators and PAOs. The guide is designed to be relevant to all countries and legal frameworks, and will be of particular value to countries wishing to set up QA for audit function for the first time.
Watch the following video or read this flyer for a brief introduction about the QA for Audit GPG.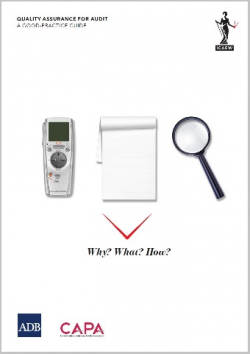 View: The Maturity Model™ in Action – Quality Assurance for Audit GPG | PDF | 48 pages
QA for Audit GPG Introduction Video from CAPA Ltd. on Vimeo.
Note: The QA for Audit GPG and introduction video are provided for use and reference at no charge to any professional accountancy organisation and other relevant organisations. However, written permission from CAPA is required to reproduce, store, transmit or make other similar uses of the materials contained in any of the above, both in printed or digital formats and by electronic links. Contact the CAPA Secretariat for permission.