Maturity Model Guidance Series: Governance
Published date: September 28, 2018
---
The Maturity Model™ Guidance Series is produced to support the Maturity Model for the Development of Professional Accountancy Organisations™ publication.
The Maturity Model™ is a support tool that allows professional accountancy organisation (PAOs) to take a systematic approach to their organisation development, helping them make decisions and carry out their commitment to excellence, easily tracking their progress along the way. The Maturity Model™ comprises sixteen key success areas (KSAs) across four broad characteristics, which are presented around the outside of the model as sustainability, relevance, professionalism and member value.
Governance is included as a KSA under "sustainability". The growth and sustainability of any organisation depends on the application of good governance principles. A PAO is no different to any other organisation, and its ability to serve its constituencies over the long term depends largely on the quality of its governance.
Governance Guide
Governance is a vital part of the way PAOs operate. Whilst PAOs exist in differing country and cultural contexts, each usually shares a key commonality: accountancy is regarded as a profession and, as such, is expected to embrace high levels of integrity and competence in everything it does – including its own operations. Good governance lies at the heart of the PAO's ability to do so.
This guide provides the "why", "what" and "how" of governance for PAOs, and provides some tools, templates and examples to assist with implementation. Primarily aimed at PAOs without established or mature governance systems, this guide focuses on practical guidance for achieving the minimum requirements of a working system. However, a section on considerations for more advanced systems is included to provide aspirational content and to recognise that any governance system will involve ongoing challenges and complexities.
Read this flyer for a brief introduction about the Governance guide.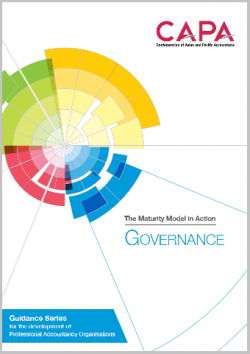 View: The Maturity Model™ in Action: Governance | PDF | 40 pages
Note: The Governance guide is provided for use and reference at no charge to any professional accountancy organisation and other relevant organisations. However, written permission from CAPA is required to reproduce, store, transmit, or make similar uses of the materials contained in any of the above, both in printed or digital formats and by electronic links. Contact the CAPA Secretariat for permission.