CAPA celebrates virtual leadership transition
Published date: December 8, 2021
---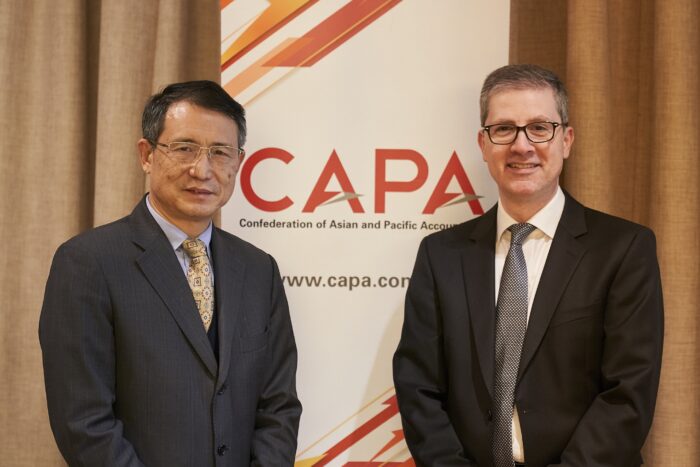 In an historic virtual passing of the Presidential 'Badge of Office' this week, Jim Knafo begins his two-year term as CAPA President. From the American Institute of CPAs (AICPA), he takes over the helm from Dr. Chen Yugui from the Chinese Institute of Certified Public Accountants (CICPA).
Mr. Knafo is a Director of Global Alliances at the Association of International CPAs, and since 2019 has been the CEO of the Global Accounting Alliance (GAA). He has been involved with the International Federation of Accountants (IFAC) since 2012 and currently serves on its Membership Committee as well as being a Technical Advisor to AICPA representatives on the IFAC Board and Professional Accountancy Organisation Development and Advisory Group. His involvement with CAPA began in 2014, and has served on two important committees – membership development and audit & governance, before being elected as Deputy President in 2019.
Acknowledging he is taking the helm as the world emerges from the pandemic, Jim said, "It's time to build on the excellent work of previous and current CAPA leaders, and strive to make the regional organisation even better." In his address at the Members Meeting, he expressed gratitude to the Board, the volunteers on the various committees and groups and related community, and to the AICPA, which represents one of the largest accountancy bodies in the Asia-Pacific region. He also conveyed his appreciation to the Secretariat for their dedication over the past 18 months in moving the organisation forward during such unprecedented times.
Meanwhile, the Board elected Prafulla Chhajed as Deputy President, who hails from the Institute of Chartered Accountants of India. He is currently Chairman of the Executive Committee of the World Congress of Accountants 2022 and member of the IFAC PAO Development & Advisory Group. He also served as ICAI President for 2019/2020. Prafulla noted that having led the accountancy profession in India, and with good understanding of the profession in the emerging context, he strives to serve CAPA as a regional organisation in fulfilling its strategic plans.
Outgoing President, Dr. Chen, commented, "Having close to two decades of involvement with CAPA, a lot of close bonds have been formed and I hope to remain part of the CAPA family. CAPA is well-placed under the leadership of Jim and Prafulla to make its vision to inspire the profession a reality."
Brian Blood, CAPA Chief Executive, thanked Dr. Chen Yugui for his leadership, on behalf of CAPA. "Each of our volunteers give a tremendous amount of energy to enable CAPA to be the best it can be. I enthusiastically look forward to working with the new leadership team as we address the needs of both developing and developed professional accountancy organisations," he added.
The list of Board members is available at this page: About Us > Board Members.
*Photo was taken in late 2019.