CAPA celebrates 60th anniversary on International Accountants Day
Published date: November 10, 2017
---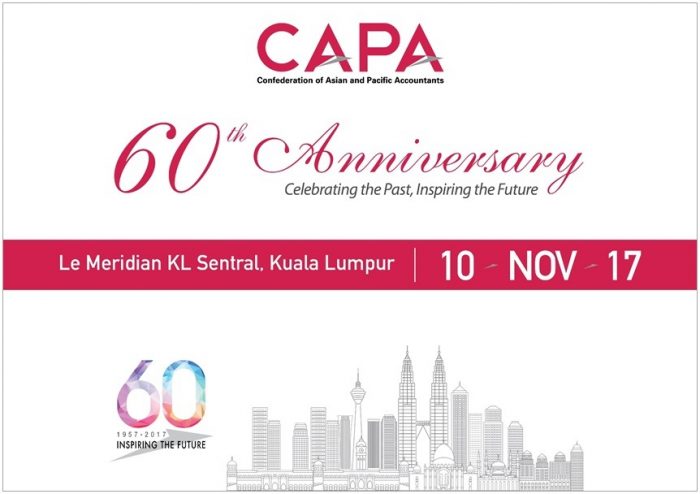 This 2017 marks the sixtieth year of CAPA's existence and to commemorate the special occasion, a full-day celebratory event was held in Kuala Lumpur, Malaysia, on 10 November 2017 – which also happened to be 'International Accountants Day'. Over 130 delegates from more than 30 organisations representing leaders and employees of CAPA member organisations, other professional accountancy organisations (PAOs) within the region and stakeholders from international and regional organisations such as IFAC, PAFA, IIRC, IFIAR, ADB and the World Bank, joined the celebration.
The event, themed 'Celebrating the Past, Inspiring the Future', featured two main sessions focused on "inspiring the future" whilst other parts of the day focused on "celebrating the past". The first session discussed the future of reporting with a special focus on integrated reporting, and the second session discussed the future of the profession touching on topics related to retaining talent, branding, ethics, education, technology, taxation and the public sector. Both sessions featured a diverse range of speakers from PAOs, international and regional organisations, as well as a public-listed company and one of the Big 4 accounting firms in Malaysia.
"Sixty years is a significant milestone for anyone, especially for many Asian cultures, as I understand. Whilst it is expected to reflect on past achievements when celebrating an anniversary, it is vitally important to also look at the future," CAPA Chief Executive, Brian Blood, commented. "The landscape surrounding the profession is changing at a rapid pace and as such, every stakeholder, whether directly or indirectly involved in the profession, should anticipate and be well-prepared to face challenges that come with these changes," he added.
In conjunction with the anniversary celebration, CAPA launched a commemorative book titled 'CAPA – Sixty Years and Counting'. The book writer, Jean Ettridge, a former employee of ICAEW and representative to CAPA, shared her account about working on this rare and unique assignment at a special matinee show hosted by the CAPA Chief Executive.
"This is the first ever commemorative book documenting CAPA's history and I am pleased to see how far the organisation has come over the last sixty years," CAPA President, Jackie Poirier, said. "Reading this history book gives you a sense of the journey that our predecessors travelled and the struggles they faced to establish the organisation and to arrive at where we are today. I really appreciate the determination, hard work and passion displayed by all those that have been involved in CAPA over the last six decades," Jackie commented with gratification.
An evening reception and gala dinner took attendees on a trip down memory lane with a special session featuring six of CAPA's past Presidents – Taesik Suh (KICPA, Korea), Soon Kwai Choy (MIA, Malaysia), Ranel Wijesingha (CA Sri Lanka), Kamlesh Vikamsey (ICAI, India), In Ki Joo (KICPA, Korea) and Keith Wedlock (CAANZ, New Zealand). Attendees also witnessed the passing of office badge from the outgoing President, Jackie Poirier (CPA Canada), to the incoming President, Manoj Fadnis (ICAI, India).
The evening concluded with a special performance to mark CAPA's 60th anniversary, which is also known as a diamond jubilee. The performance was a showcase of beauty, strength, power and passion – characteristics commonly associated with a diamond gemstone – accompanied by a birthday message to CAPA to stay strong and shine bright like a diamond well into the future.
Further information and materials from the event are available at this section: Events > Past Events > CAPA 60th Anniversary